Newsletter 06/05/2022
Vertical Slice Progress Update
We are wrapping up work on the VS finally! After we had our initial version of our VS with feedback from others in the industry we've been working on improving various aspects of it. Currently we've been splitting work between the VS and the Combat Alpha, but those updates should wrap up this month so we can lay most of our focus on the combat alpha!
Progress
Jon is focusing on cleaning up the UI for the vertical slice and adding some polish to various UI elements, extra dialogue portraits, and temporary trainers. In addition, he has been on a bug cleaning spree, as well as setting up the next steps for the Combat Alpha and cleaning up our code base.

Drake has been working on making updated visual effects for combat. Currently we have a lot of temporary effects for combat, and drake has been learning how to create VFX to allow us to implement more polished VFX for the combat alpha. Specifically he's been working on Graccoon's VFX for his jab combo.

Javon has been fairly busy the past month outside of mythren, but has done some work on a short teaser to put in our pitch deck. He will be hopping back in to finish up the lore documents for the different cultures in mythren.

Ice has been working on sound effects for various menus and UI. Our game is pretty silent while navigating through UI right now, so Ice has made menu open and close sound effects along with confirm, return, etc. At the current moment, he's creating a better transition sound for the menu that pops up when transitioning into a new day cycle in mythren.

Aidan is working on finalizing updates to sliding with Zane, they have completed adjusting the speed and heights for sliding as well as are working on a feature that will notify players whether they have chained the slide correctly/incorrectly for a speed boost.

Scott has begun working on Rook Towers in Zone 1, he will be replacing the blockouts of the 2 towers with actual unique towers based on concept art by Ngan Pham.

Rob has been hard at work completing Raddapus's Jab animations as well as Raddapus's combat Idle- check it out below!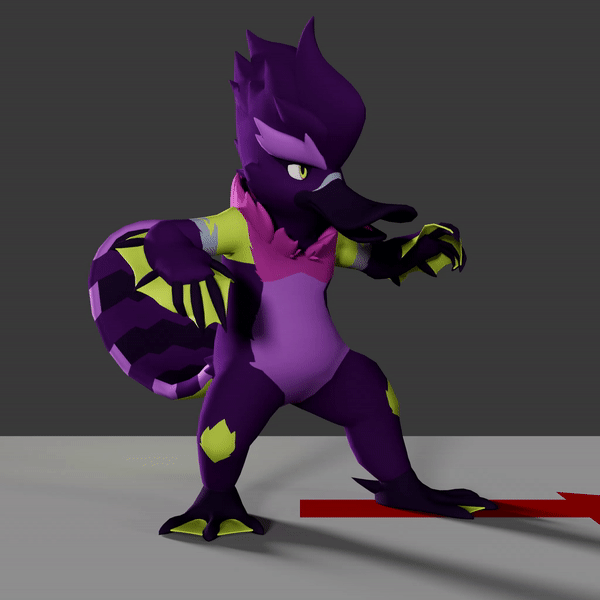 You can view it at a higher frame rate in our Discord

Zane is working on finishing up Kaiya's model, specifically working on the details of Kaiya's Hair. In addition he is working on rigging the model to enhance arm movement, hair movement, and her mantle.
Community
Mandragora is a story-driven, side-scroller action RPG set in a universe of gorgeous paint strokes and inevitable tragedy. Slash, burn, and rage against the creatures beyond the town walls. Light your Witch Lantern, navigate through the dark plane of Entropy, and tear reality asunder.